Well, Here's one way to start anyway. Paizo offers a beginners box for those who want to dip their toes into the shallow end of the RPG pool without going all the way on a first date.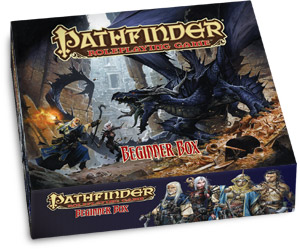 The Adventure Begins!
Take your first step into an exciting world of fantasy adventure with the Pathfinder Roleplaying Game Beginner Box! Within you'll find simple rules to create and customize your own hero, as well as a robust system to run your character through challenging adventures and deadly battles against villainous monsters like goblins and dragons!
Will you be a courageous fighter who masters weapons and armor to cut a trail of destruction through your enemies? A wise cleric who calls upon the power of the gods to heal your allies and burn enemies with sacred fire? A witty rogue able to disarm traps and strike with deadly accuracy? A brilliant wizard whose magical powers bring foes to their knees? All the details of your character are yours to control. The only limit is your imagination!
The Pathfinder Roleplaying Game Beginner Box is packed with everything you need to get started with the Pathfinder Roleplaying Game, an imaginative tabletop fantasy adventure game for 2–5 players. Scores of monsters, challenges, and advice give gamers the tools to create their own worlds and adventure, providing countless hours of gaming excitement. With streamlined rules and a focus on action-packed heroic adventure, this deluxe boxed set is the ideal introduction to the world of the Pathfinder Roleplaying Game, and the best starting point for a lifetime of pulse-pounding adventure!
The Pathfinder RPG Beginner Box Includes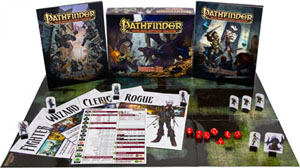 64-page Hero's Handbook, detailing character creation, spells, equipment, and general rules for playing the game
96-page Game Master's Guide packed with adventures, monsters, magical treasures, and advice on how to narrate the game and control the challenges faced by the heroes
A complete set of 7 high-impact polyhedral dice
More than 80 full-color pawns depicting tons of heroes, monsters, and even a fearsome black dragon
Four pregenerated character sheets to throw you right into the action
Four blank character sheets to record the statistics and deeds of your custom-made hero
A durable, reusable, double-sided Flip-Mat play surface that works with any kind of marker
And if you decide you need a bit more, there are free resources at Paizo for the beginner and some paid itlems (like minatures) to augment your beginning box.
Free Beginner Box Resources
---
Beginner Box Player Pack

The Pathfinder Roleplaying Game: Beginner Box Player Pack provides new character creation options for Pathfinder players, including a complete player character class: the powerful berserker known as the barbarian! Kit out your character with tons of new adventure gear and alchemical items, dominate combat with new feats and spells, and spruce up your character with new class options for clerics, fighters, rogues, and wizards! Take your Beginner Box characters to the next level with these exciting tips and tricks!

Beginner Box GM Kit

The Pathfinder Roleplaying Game: Beginner Box GM Kit arms Game Masters with new options and opportunities, from a complete adventure that picks up where the Beginner Box's Black Fang's Dungeon, left off to new monsters like the deadly minotaur and the giant black widow spider! Piles of new magical weapons, armor, and other treasures beef up your campaign's rewards, and tips on converting standard Pathfinder adventures for use with the Beginner Box extend the life and variety of your Pathfinder campaigns.

Beginner Box Transitions

Step beyond the Pathfinder Roleplaying Game: Beginner Box into the complete Pathfinder Roleplaying Game with Pathfinder RPG: Beginner Box Transitions. In this free document you'll learn how to read and understand new facets of the Pathfinder RPG rules, advance characters to 6th level and beyond, and unlock the entire arsenal of Pathfinder RPG adventures and accessories. New guidelines also allow you to adapt dozens of Pathfinder RPG adventures for use with the Beginner Box. Unlock a world of unlimited adventure with Pathfinder RPG: Beginner Box Transitions!

Beginner Box Bash Demos

Four mini-adventures, specifically designed for use with the Pathfinder Roleplaying Game Beginner Box. These adventures allow a GM and players to expand their experience of the Beginner Box. Each of the included adventures revolve around Sandpoint and are set in four different areas of Varisia. The adventures can be run as a sequel to Black Fang's Dungeon found in the Game Master's Guide.

Ready for the next step from the Beginner Box? This guide provides a step–by–step walkthrough of the Pathfinder Society character creation process while referring you back to the Hero's Handbook. These instructions allow for a seamless transition from the Beginner Box to Pathfinder Society play.

Character Sheet

Download this colorful two-sided character sheet to record every detail of your custom hero, from ability scores and skill bonuses to weaponry and treasures. Special sections help you record your character's triumphs, including monsters killed and most damage dealt!

Beginner Box Character Sheet – (532 KB zip/PDF)

Pregenerated Characters

Jump right into the action with this helpful pregenerated character packet! Take on the role of Valeros the fighter, Kyra the cleric, Merisiel the rogue, or Ezren the wizard with these digital copies of the 1st-level characters included in the Beginner Box.

Beginner Box Pregenerated Characters – (6.2 MB zip/PDF)
Beginner Box Products
---
The Beginner Box

Your Pathfinder experience begins with this introductory boxed set packed with rulebooks, dice, a reusable Flip-Mat play surface, and more than 80 character and monster pawns. Simplified rules and enhanced graphic presentation make the Beginner Box the ideal introduction to the exciting world of the Pathfinder Roleplaying Game!

Beginner Box Heroes Miniatures

Bring an exciting new dimension to your Pathfinder game with these beautifully crafted fully painted miniature figurines representing the iconic heroes of the Beginner Box: Valeros the fighter, Kyra the cleric, Merisiel the rogue, and Ezren the wizard. After starting with Beginner Box Heroes, augment your Pathfinder miniatures collection with the full line of Pathfinder Battles prepainted miniatures.

Beginner Box Promotional Poster

Pledge your allegiance to Pathfinder with this huge poster featuring the gorgeous Beginner Box cover art by fantasy legend Wayne Reynolds! We set aside a limited number of these rare promotional posters, and will send your mint, unfolded poster to you rolled in a durable tube. Available while supplies last!

New Maps!

GMs looking for new environments to challenge their players can choose from dozens of Flip-Mats and Map Packs. These maps are designed to work with the pawns in the Beginner Box, and make the perfect inspiration for your next adventure!